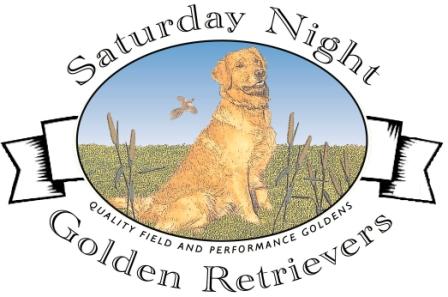 .

GOOD BOOKS TO READ:
SIRIUS Puppy Training, by Ian Dunbar.Teach your puppy to sit, down, stand, stay, come and heel before they are
six months old. This book is a good addition to your collection.
How To Raise A Puppy You Can Live With, by Clarice Rutherford and David H.Neil. Down to Earth approach to puppy training including crate training, house breaking and other puppy basics. Highly recommended.
How To Be Your Dog's Best Friend: A Training Manual for Dog Owners, by the Monks of New Skete. Will teach you how to develop a deep and lasting relationship with your dog. Wonderful techniques for puppy training.

RETRIEVER Puppy Training, The Right Start For Hunting, Loveland and Rutherford. Basic training for turning young retrievers into efficient and enthusiastic workers. Highly recommended.
The World of the Golden Retriever: A Dog for All Seasons, by Nona Kilgore Bauer. Great information about golden retrievers.
Dog Owner's Home Veterinary Handbook, by Delbert Carlson and James Giffin. Great source of veterinary information, easy to use and covers many of the primary concerns to the pet owner.
The Art of Raising A Puppy, by The Monks of New Skete. Excellent approach to raising puppies. Learn the importance of the human-canine bond from birth to death.