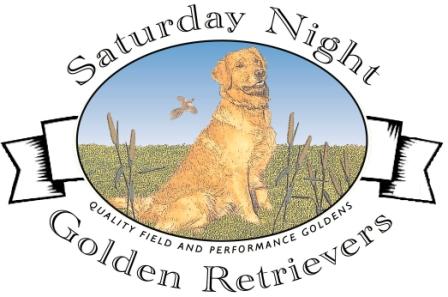 About Us

SATURDAY NIGHT GOLDEN RETRIEVERS
LEWISTOWN, MONTANA
We are located in the heart of Montana. Our golden retrievers are hunters and performance dogs, plus they are wonderful family pets. We breed for stable temperaments and for confident puppies ready to join any game you wish. Our puppies are involved in competition with hunt tests and field trials, obedience, rally and agility trials, working as Search and Rescue professionals, and therapy dogs. We adhere closely to health clearances necessary to protect our breed, keeping our clearance testing up to date for all of our dogs. The pedigrees of our dogs are full of championship performers. Although we do not personally compete in field trials, we find that the importance of those winning dogs in our program is simple. For there to be many generations of champions coming from these pedigree lines, it means that the dogs are very trainable, people-oriented and are healthy individuals. There is a difference in trainability in different dogs and our dogs reflect the best traits of working dogs.

In the summer of 2008 we built a state-of-the-art kennel facility at our property. Our dogs can now be pampered in style with heated floors, well regulated interior temperatures, generous exercise yards and a compete grooming room. The new kennel features two separate puppy suites that make the transition seamless for our growing pups as they need more room to play and romp.
At Saturday Night Golden Retrievers, you will find goldens with great field coats, friendly, sane dogs who love people and are ready in an instant to go for a walk, a swim, to go bird hunting or to a competitive obedience event. These same dogs will be found curled up at our feet watching television! They are all-around Golden Retrievers!
Why "Saturday Night"? When Doug was growing up, he was lucky enough to spend his summers training dogs, raising puppies and going to field trials with his uncle. Col. Ed Schnettler was a retired Marine Corps pilot who flew Corsairs in the South Pacific theater during World War II. He was just a little bigger than life! It made sense to us to honor Doug's uncle by naming our kennel after his most famous dog, Saturday Night Ed, a field Irish setter. So now you know! (Take a look at Saturday Night Ed on the "Memories" page.)
Enjoy browsing our site and looking at our beautiful dogs; in addition to many photos, there is also pedigree and health information . Let us know if we can help you own your very own Saturday Night Golden Retriever! We welcome kennel visitors who wish to meet our beautiful dogs. Please give us a call if you would like to schedule a time to visit.