Spring Litter due late May 2020
Puppies will be ready to go to their new homes July 10
Nellie x Ruckus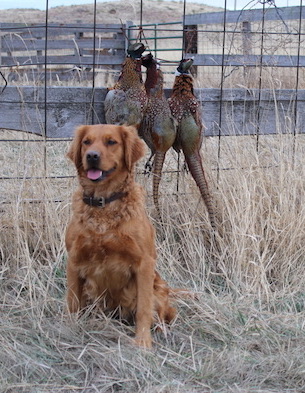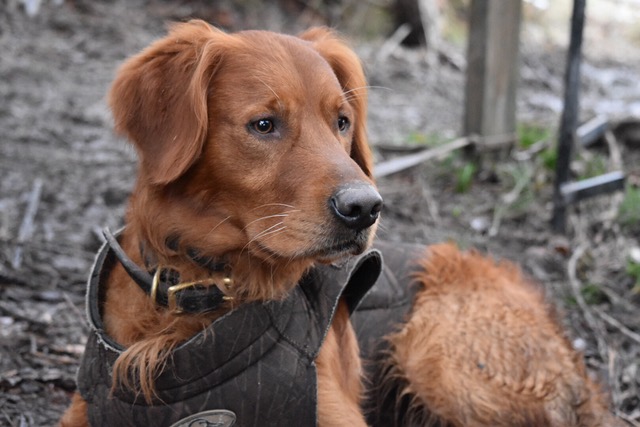 Saturday Night Whoa Nellie Saturday Night Judith River's Red Son
Ruckus)

---
Pedigree and Health Clearance links:
---
Nellie is a hunting machine; there is no "Whoa" in this girl. She hunts all day long and has an incredible nose. Nellie is such a fun dog to hunt over as there is always action and motion. She has great natural talent and a strong work ethic. She is a beautiful girl with classic conformation, a correct field coat and is 64 pounds. Nellie is dark gold in color.

Ruckus is a seasoned hunting dog who spends his days hunting the inland waterways near Virginia. He is an incredible duck and goose hunter, never shying from the cold, icy weather for a hunt! His owner volunteers a lot of time to hunt with the Wounded Warriors and Ruckus is there to retrieve lots of birds for the group! Ruckus is a dog with a lot of drive but he is also the king of his home with his perfect manners and golden retriever temperament.
Photos of Nellie and many of the dogs in her pedigree can be found on the Our Girls and Our Boys pages. Saturday Night Judith River's Red Son, can be found on our website with many photos and pedigree and health clearance information. He has his own page with the listing of Visiting Males. There are many photos of Ruckus that his owner, Matt Upperman, has shared with us.
Both Nellie and Ruckus have full health clearances including cardiac clearance from a board certified canine cardiologist. Regular eye exams by a board certified canine opthalmologist. Hips and elbows xrayed to check for dysplasia. They have also had several important genetic tests done through DNA to protect against any inherited problems. These dogs are highly trainable and love to work. They are athletic and sound with many generations of dogs in their pedigrees who have also been tested for full clearances.

The puppies are covered by our Written Health Warranty. Puppy price is $2900. A $500 non-refundable deposit is required to confirm a puppy reservation. Please don't send a deposit to us before we have had a chance to visit on the phone about the availability of a pup. We recommend that anyone interested in a puppy complete the puppy application that can be found on our website.
Serious inquiries are welcome from working homes or from homes with experience with working dogs. Although we anticipate that these puppies will make wonderful family companions, no puppies are available to pet-only homes. They will require an active family dedicated to giving the puppy regular exercise and training.