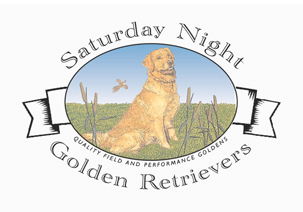 ANNIE & FINN - FALL 2011
ALL PUPPIES ARE SPOKEN FOR - THANK YOU!

Born October 15, 2011*** Ready to go home December 3, 2011*


ANNIE

SATURDAY NIGHT DREAMBOAT ANNIE CGC

FC AFC Topbrass Band On The Run x Wrinkle Bean's Lucy

AKC # SR42670601

CHIC# 62677


Hips: OFA GR-100057G34F-VPI

Elbows: OFA GR-EL21601F34-VPI

Eyes: CERF GR-41181/2009-19

Cardiac: GR-CA15697/22F/C-VPI

PRCD: Normal/Clear

DOB: 3/08/2007





FINN

ROCK ERIN FIONN MAC COOL JH WCX

NDC NMFR ROCKERIN RED RIVER RUCKUS***

X JFR CEDARPOND ROCKERIN TYREE TU JH

AKC # SR35500602

CHIC# 59072

Hips: OFA OFA GR-95834G25M-NOPI

Elbows: OFA OFA GR-EL18136M25-NOPI

Eyes: CERF GR-40998N/2009-36

Cardiac: GR-CA16680/39M/C-PI

PRCD: Normal/Clear

DOB: 4/22/2006
The ANNIE AND FINN pups are bred to be strong field and performance dogs as well as wonderful family companions. There should be coat colors ranging from dark gold to red, with either flat or slightly wavy coats. Both Annie and Finn have easy to clean field coats which make maintenance easy for hunters and outdoor enthusiasts alike.
ANNIE is a hard hunting dog in the field, leaving no brush unturned in the pursuit of birds. She will hunt and retrieve all day, and when she is done she is a sweet family house pet. Annie is also a competitive obedience dog. Doug gives Annie the greatest compliment of all when he says she is "just like her mother" when hunting pheasants. Annie's dam is our Lucy, who is one of the greatest gun dogs we have ever owned! Annie shares Lucy's incredible drive in the field. Annie has a sweet disposition and is a wonderful family pet who lives with us in the house. She is 55 pounds and dark gold in color.
ANNIE's sire, FC AFC Topbrass Band On The Run, is one of the top competitive field trial dogs in the country. (Photo on the Reference Goldens page.) Band's sire, FC AFC OTCH Topbrass Ascending Elijah OS FDHF, is one of the most winning golden retrievers in golden retriever history, and was the first golden retriever to earn both an FC and an OTCH. More important than all of the exceptional titles those dogs have earned is the fact that they both are family house pets too!
FINN is a strong hunter and great retriever, as well as being a fully trained field trial dog.. His pedigree is loaded with talent, and he more than lives up to our expectations. FINN's pedigree represents a genetic powerhouse of great field golden retrievers. Finn is a handsome dark red dog with a great work ethic; he gets along well with all dogs and people. Finn is especially strong in the water.
PUPPY PRICE IS $1700. All puppies are sold with limited registration. Limited registration means that the puppy is registered but no litters produced by that dog are eligible for registration. This AKC procedure helps to protect established breeding programs. *** If the puppy buyer completes full health clearances, the breeder will change the limited registration to full. In that event, our breeding contract will apply. A $300 non-refundable deposit is required to hold a puppy. Puppies are generally ready to go to their new homes at 7-8 weeks of age.
PUPPY PEDIGREE:

SATURDAY NIGHT GOLDEN RETRIEVER puppies come with:
Individual stimulation from birth to 16 days

Dew Claws removed

Vaccinated and Wormed

Veterinary exam

Well socialized in a family setting

Started on house breaking

Written health guarantee
SATURDAY NIGHT GOLDEN RETRIEVERS
Doug and Jill Flament
P.O. Box 1082
Lewistown, MT 59457
(406) 538-2635