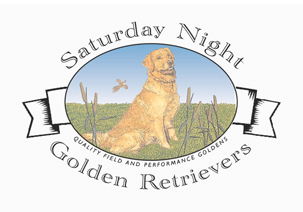 Presents
Topbrass Tiger Lily III
Sire: AFC Emberain Rugby WCX OS FDHF
Dam: Topbrass Sandy Sox
1/08/07
OFA Hips/Elbows Normal, Heart Cardiologist Cleared, CERF, prcd normal/clear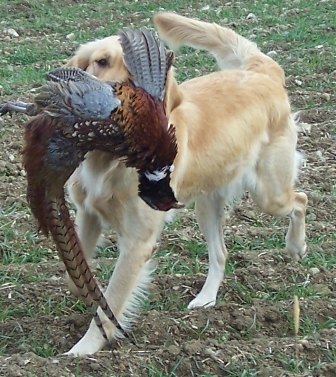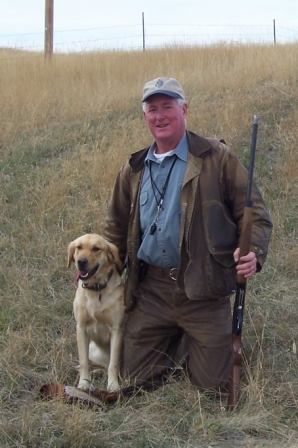 Lily is a "hunting sweetheart". She has a great nose, high drive to hunt AND retrieve!
She makes bird hunting FUN!



Lily
Achievements:
Lily is a strong, focused girl of about 64 pounds. She was hunted on pheasants at 9 months old and we were very impressed by her drive and birdiness. One year later she was awesome in the field, hunts all day and doesn't miss a retrieve! She absolutely loves the hunting! Lily has a very sweet nature and lives in the house. She is a lighter colored girl with warm gold shadings. Her sire, Emberain Rugby, is an outstanding, talented dog. Her dam, Sox, has excellent hips and comes from one of the most talented gene pools in performance goldens. Lily has a perfect field coat with short, dense hair and light feathering.
Pedigree of " Topbrass Tiger Lily III"

Parents
GrandParents
GreatGrandParents
SIRE

AFC Emberain Rugby WCX OS FDHF

FC Wraiths HTR MN Bro Macdhuibh OS

Wraith's Duncan MH*** OS
Hunter's Moon Madcap*** OD
Emberain All Butter Up CDX JH MX MXJ WC OD
AFC Glenhaven Devil's Advocate UDT MH WCX OS FDHF
Emberain Jelly Side Up UDT AX JH WC OD

DAM

Topbrass Sandy Sox

Can. Triple CH FTCH AFTCH OTCH Firemark's Push Comes to Shove WCX CDX UD Am*** OS
FC Wraiths HTR MN Bro Macdhuibh OS
GMHR Phoebe's Prize Piponia CDX MH AXJ WCX CCA OD
LaCrosse I Dare You
FC AFC OTCH Topbrass Ascending Elijah OS/FDHF
Redstar's Tess of LaCrosse MH WCX***OD