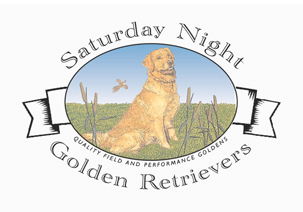 Presents
Saturday Night Lucky Duck RN CGC
Sire: FC AFC Topbrass Band On The Run FDHF
Dam: Wrinkle Bean's Lucy
DOB: 3/8/07
Lucky is the only male offspring sired by FC AFC Topbrass Band On The Run FDHF.
Band was bred just a few times while he was alive. Lucky is a healthy, highly trainable boy with tons of talent in the field.
He is a strong swimmer, a great marker and retriever and has an awesome nose. He is a 72 pound, dark gold male with a flat coat and has that
classic golden retriever type and beauty. He is a friendly dog who gets along with all people and dogs!

He is available at stud with both fresh chilled and frozen semen, or by a side by side insemination.
Lucky is available to approved females who have full and current health clearances.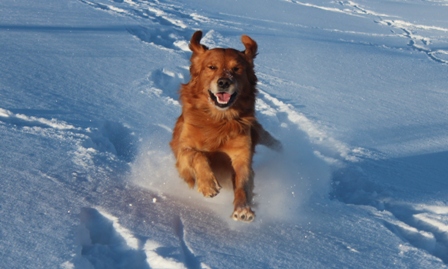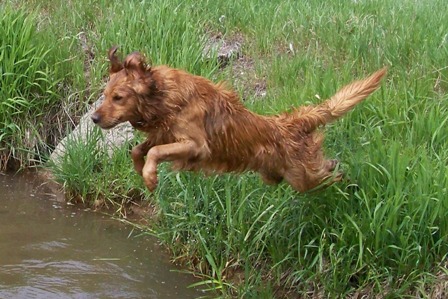 Lucky has a strong water entry and loves to swim. He swims almost every
day of the year except for the days when the creek is frozen solid.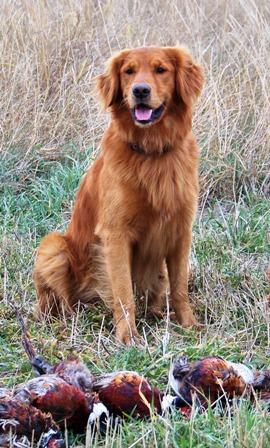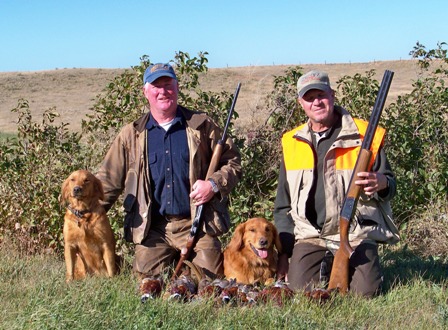 Lucky is a natural hunter, relentless in the field and always retrieves the bird.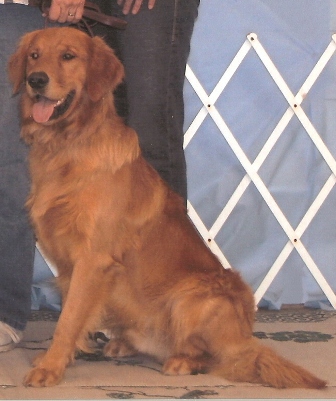 September 2008
Lucky at the Great Falls Dog Club Obedience Trial -
He earned a Rally Novice title
Easter 2011 - Lucky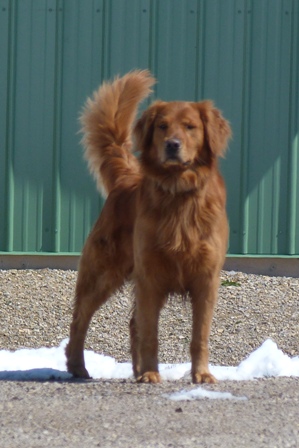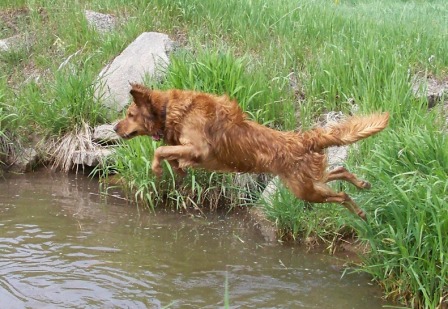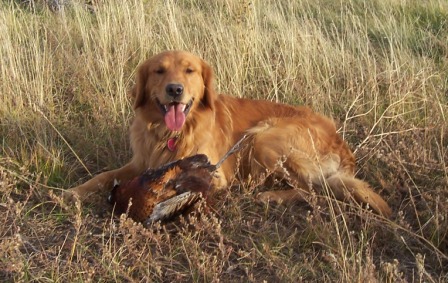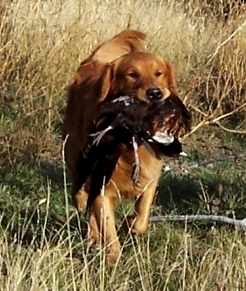 10/19/08 - 17 months old



12/21/07 - 9 months old- First pheasant


Achievements:
Lucky is a beautiful, talented male who weighs approximately 75 pounds and is medium gold. We hunted over him at age 8 months in his first hunting season. He is birdy, will retrieve all day, and has an incredible water entry! Last fall (2008) he had matured into a valued bird dog and he's a joy to hunt over. He earned a RN and CGC in August. He is a littermate to our Saturday Night Dreamboat Annie. A look at his pedigree tells it all; he comes from generations of champion dogs. Lucky bears a striking resemblance to his sire, Topbrass Band On The Run with classic golden looks. He is a character, a bit of a clown, and he makes us laugh. He also is a hard worker when in the field or training for the obedience ring. Lucky is a proven sire and is available at stud to approved bitches.
Pedigree of " Saturday Night Lucky Duck RN CGC"

Parents
GrandParents
GreatGrandParents
SIRE

FC AFC Topbrass Band On The Run

FC AFC OTCH Topbrass Ascending Elijah OS/FDHF

Wraith's Duncan MH*** OS
Hillviews Ready To Smoke OD
Topbrass New Lisa On Life*** OD
Sky-Lab Argus of Belvedere***OS
AFC Topbrass Comet OD/FDHF

DAM

Wrinkle Bean's Lucy

Tangelo's Howdy Pardner***
FC AFC Tangelo's Side Kick OS FDHF
Sungold Felice
Honey's Golden Widgeon
Sr Jake of Sterling
Cupid's Honey Babe